ATV Tours
Just 20 minutes west of Mount Robson Provincial Park, choose between our Scenic 2 hour tour or the Robson Valley 3.5 hour tour. The perfect way to learn about Valemount and the area while riding in beautiful mountains. Find out about our guided tours, rates, and departure times. All tours are accompanied by a qualified guide.
ATV-ing for everyone
Start planning your quadding trip today. Our All Terrain Vehicles (ATV's) can be operated by anyone age 16 or older, and passengers may be as young as 5 years. Bring out the whole family to enjoy a quality experience on quads.
Rain or shine. All equipment provided: rain suits or coveralls, helmets, goggles and light gloves. All tours are accompanied by a qualified guide and full safety instructions are given prior to each trip.
The scenic tour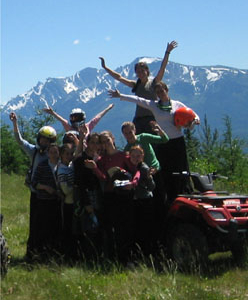 Adventure for everyone
The perfect quad tour for the whole family or first-time rider. Learn the ATV basics, experience the scenery and capture breathtaking photos.
Tour length:
2 hours
Departure Times:
9:30am, 1:30pm, 4:00pm daily
Tour price:
Rider: $ 125 +tax
Passenger: $ 65 +tax
2 riders minimum
Book Now
Robson Valley Tour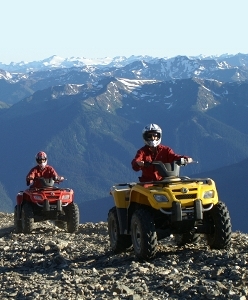 Reach Amazing Heights
Suitable for adventurous beginners and intermediate riders. Travel through the Robson Valley to spectacular mountain tops and enjoy stunning views of all three mountain ranges: The Rockies including Mount Robson, the Cariboo Mountains and the Monashee Range.
Tour length:
3.5 hours
Departure Times:
9:30am, 1:30pm daily
Tour price:
Rider: $ 185 +tax
Passenger: $ 95 +tax
2 riders minimum
Book Now
Tour Information
What to bring/wear
Snacks, Lunch, Water.
Appropriate Shoes: closed toed shoes that may get dirty.
Layered clothing: Fleece or Liner, Wind jacket.
Accessories: Camera, Sunglasses, warmer gloves if needed.
Custom tours and private, more challenging tours available. Minimum Participants: 2 Riders. Maximum Group Size: 6 Riders, 4 Passengers.
For reservations please contact us.
Tour Policies
Damage Deposit and Insurance Fee
A Damage Deposit MUST BE PUT on a Credit Card (Visa/MasterCard/American Express). We DO NOT accept debit for damage deposits. For ATV Tours, the amount is $1,000.- per machine and a mandatory $15.- insurance fee. For All Terrain Vehicles, you will be liable for any and all damages of up to $1,000.-. Damages above that amount are covered by your insurance fee.
Cancellation Policy
Our cancellation policy is 3 full days (72 hours) in advance of booking date at no charge, after 3 days there is a $100.00 cancellation fee per machine booked on the tour. Alpine Country Rentals reserves the right to cancel any tour at any time, in which case a full refund will be issued. We are not responsible for changes in weather.
Reservations
A Credit Card number is required to confirm reservations. No charge will be processed on that card until the day of the rental. Credit Cards must be presented by the Card Holder. If you are unable to provide a credit card and would like to reserve or rent using a card held by another person, a Credit Card Authorization Form must be completed by the Card Holder. For reservations please contact us.
No Show Reservations
Reservations that do not cancel and do not show before 11 am will lose the reservation and will be charged for the full tour price.
Release of Liability Waiver
All clients, guests and participants are informed of the risks and dangers, including death and injury, associated with guided trips and/or All Terrain Vehicle (ATV) and equipment rentals. You will be required to read, understand and sign a waiver, assumption of risk and indemnity agreement to participate or rent.
Download the ATV Waiver in PDF.

Minimum age for driving an ATV is 16 years. Minimum age for being a passenger on our tours is 5 years. Minimum age for signing the waiver is 19 years. Any participant who is under the age of 19 years needs to be accompanied by a parent or guardian in order that decisions made will include the wishes of the parent or guardian who will sign a waiver in the name of the minor participant.
All prices in Canadian dollars (CAD) plus applicable taxes. We accept Cash, Debit, Visa, MasterCard, and American Express for payments.